Governors
We are fortunate to have very supportive governors, with a broad range of experience. They significantly contribute to Selborne's success.
Prash Mehta

- Chair of Governors
Prash attended Selborne Primary School from 1990 – 1994 and is a very proud alumnus of the school. He is Chair of Governors. Outside of Selborne, Prash is a Technology Lawyer working for BT in their Technology Innovation team, supporting BT with developing new and emerging technology. He has also acted as Technology Lawyer for the BBC, Ernst and Young and Tesco Mobile.
Prash developed his interest in technology whilst at Selborne, acting as computer representative, assisting other students to learn about using the school's first ever computer.
Prash is passionate about helping young people achieve their potential, and acts as a mentor to students supported by BT. Having recently moved back to Ealing, Prash is very interested in learning about and playing his part in Ealing's community and Selborne in particular. He is looking forward to contributing to the school and assist with maintaining its outstanding Ofsted status. In his spare time, Prash likes running, cooking and following current affairs.
Ghana Assi - Vice-Chair of Governors
I am pleased to be Vice-Chair of Governors Selborne Primary, where my three children are attending.I will benefit from my enthusiasm and commitment, in cooperation with the Governing Body, to ensure that our outstanding school continues to develop the higher standards. I believe that all round development of every child is the best start towards a successful life ahead.
I got BS Hons in Management and Marketing from Lebanese American University. Then I took all the courses required for Masters degree in Business Administration. I worked for two years, in the management department, at Commercial Real Estate Development Company, in Lebanon, beside the Supervisor position in the charitable social services department.
As I had five years experience from my voluntary services in a social institution which provides holiday camps for children aged 4-14, helping financially and giving advice to vulnerable young people to continue their education, literacy courses for adults and awareness campaigns for families.
Recently I am working part-time as Manager Assistant at Milky's Company. I know four languages: Arabic, English, French and Portuguese; as well a little of Spanish. I enjoy reading, playing tennis and piano.
Cllr Anthony Young - Local Authority Governor
I have been a Governor of Selborne school for over 20 years, and am the longest-serving member of the Governing Body. I have seen the School develop over that time from being in classrooms little changed since the 1930's, to the modern progressive School it is today. I am appointed as a Local Authority Governor, by the London Borough of Ealing, having been a Councillor in Ealing since 1978. I currently serve on the School's Finance and Resources Committee, helping decide how our budget is spent.
I work as a veterinary surgeon in Ealing, looking after the local pet population. I am married with two grown-up children. I have been into school to talk about my work with animals – the pupils all loved the pictures of the puppies and kittens, and some liked the pictures of the operations.
Cllr Charan Sharma - Co-opted Governor
Charan is married with two grown up children and has lived in Perivale for 25 years. She is the Designated Governor for SEN. She has been working as an Early Years Advisory Teacher, Senior Manager and a School Teacher for over 25 years. She has 16 years' experience as a school governor as well as being an active member of PTAs. She went to the University of East Anglia gaining a BA Hons in Economics and Social Studies and a Postgraduate Certificate in Education. She gained another Postgraduate Certificate in Professional Studies in Education from Kingston University.
Kerry Shilling - Headteacher
I am delighted to have taken up Headship at Selborne Primary School after 6 years of successful Deputy Headship in a Southall school. For the past 14 years I have worked in schools within the London Borough of Ealing and love the diversity and vibrancy that this local authority encapsulates. Previous to Ealing, I worked for 5 years in the London Borough of Merton. Consequently, I have worked in large (5 form entry middle state) to small (1 form entry) schools, including 2 years spent in a middle leadership position in the Independent sector. As a result, I have gained a wealth of experience through working with inspirational school leaders, advisors and colleagues.
In 2010, I completed my NASENCo Postgraduate Certificate in Special and Inclusive Education (at Masters degree level) whilst in a previous role of Inclusion Leader and learnt a great deal about special needs education. I value inclusion and am delighted to now lead a school with a growing new ARP. In 2012, I finished my National Professional Qualification for Headship (NPQH) and then searched for the right school to take up the post of substantive Head.
I live local to the school and understand the importance of community and how we all need to feel that we belong. I hope that everyone in our community feels welcomed at Selborne and I will work hard with the school Governors to ensure that we serve our community in the very best way that we can.
James Cox - Staff Governor
I am currently the Upper Key Stage 2 Assistant Headteacher and Maths co-ordinator at Selborne. I have been here since I was an NQT, and I really feel that Selborne has allowed me to develop and flourish as a teacher. I have taught in Years 1, 5 and 6, so I believe I have a good insight into how pupils learn and succeed in Selborne. I decided to become a staff governor as I have watched and been a part of the growth of Selborne into an outstanding school, and I want to be part of the driving force that keeps pushing Selborne forward.
Laura Bolton - Co-Opted Governor (Staff)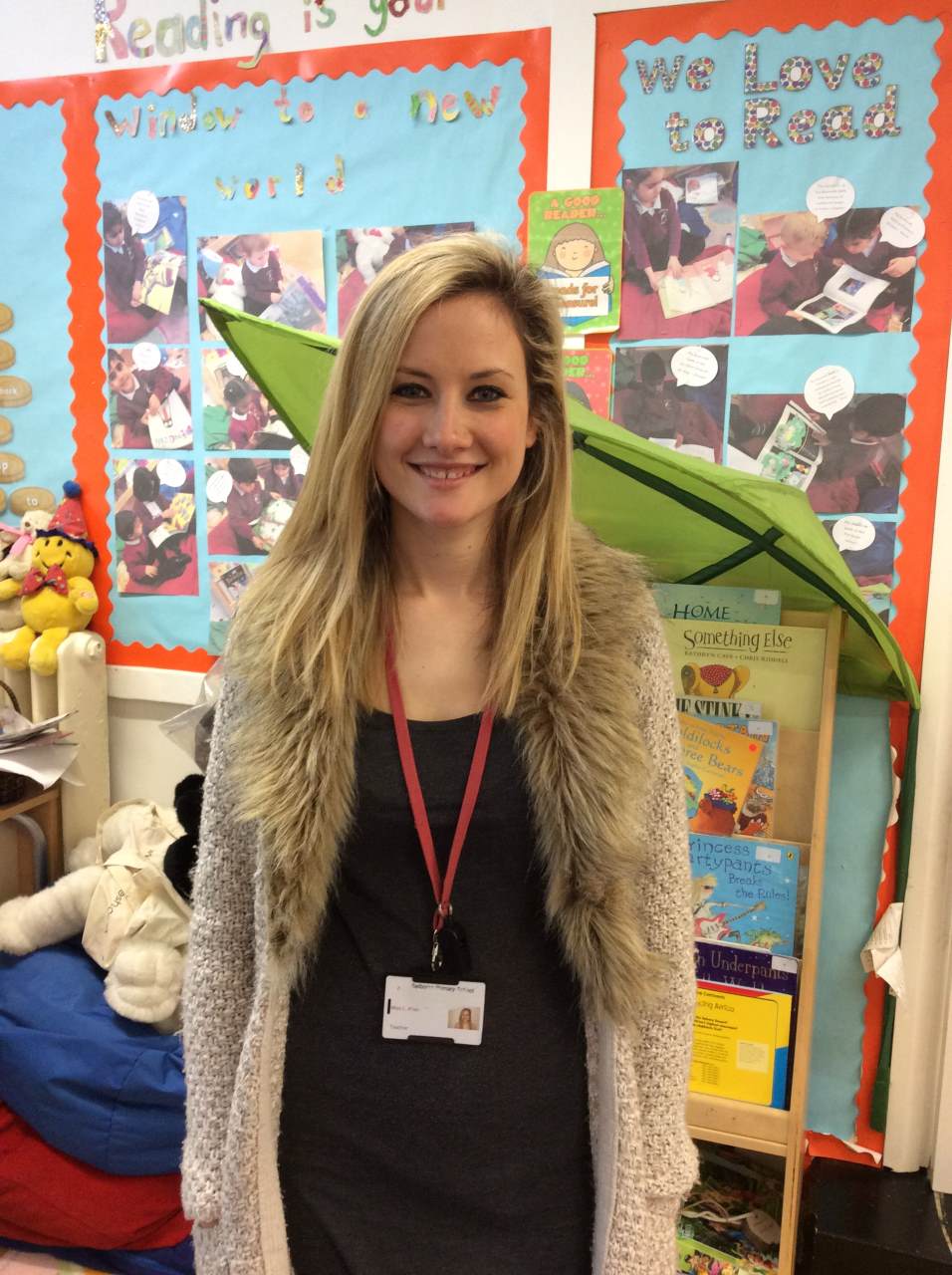 Since qualifying as a teacher I have taught in all year groups from Nursery to Year 2. I began teaching at a school in the North East of England and then moved to London, becoming an Early Years Leader at a Hindu faith School in Harrow. I was very pleased to join Selborne in 2015, continuing my role within Early Years. Selborne is a fantastic school where the whole community comes together with enthusiasm to promote a love of learning. I wanted to become a governor to help make a positive contribution to the lives of the children here at Selborne.
Nusret Gillani - Co-Opted Governor
I had the opportunity to join the Governing Body in November 2015 as a co-opted governor. My professional background is as a Deputy Chief Pharmacist for 16 years at a private hospital and my specialism is Paediatrics, I work with a multidisciplinary team of other healthcare professionals to care for sick children. As a mum of three children, all of whom attend Selborne Primary, I have observed the school grow from strength to strength and have been particularly impressed by the dedication and support of it's hardworking teachers and governing body.
I passionately believe every child should receive the very best chances and education possible in order to achieve their maximum potential and I hope to work with the Governing body to continue to improve the performance of the school in its 'Outstanding' status.
Mala McFarlane - Parent Governor
I am looking forward to my role on the Governing Body.
I bring with me skills, experience and knowledge having worked as a Children and Families Social Worker for over 20 years, and my social work career spans the areas of Safeguarding, Early Years Intervention and Fostering and Adoption. I have recently worked with families who have had a relative/relatives in Prison and I currently do sessional work for an organisation that supports families affected by domestic violence.
I understand the importance of education and where it fits, in a child's life not only from my work but also my own children's experience of school and education. I am passionate about making a difference in a child's life as this is what I have done in my professional career, and am doing as a parent.
I have lived in Perivale, and Greenford for the last 10 years and been in London for 20 years. I live with my husband and two children.
Ian Winton - Co-Opted Governor
Ian has spent his career in advertising and media both working for agency groups and establishing, building and then growing businesses from start up. A graduate of West London University he has lived in the area for 35 years and became a co-opted governor in 2015.
He is looking forward to contributing to Selborne and to assisting in maximising pupil potential by applying his entrepreneurial business experience to the governor role. Ian is married with two grown up sons and loves the theatre, the cinema and live music - he is a season ticket holder at local football and rugby clubs.
Shahi Islam - Co-Opted Governor
I am really excited about my role as a school governor at Selborne.
My primary motivation for becoming a governor is my belief that every child should have equal access to quality education that not only provides them with a solid academic foundation for secondary and further education but develops their social and emotional wellbeing.
I found Selborne to have a warm and inclusive atmosphere with a staff base who are committed to the development of all children at the school. As a governor I want to ensure that Selborne remains an outstanding school and continues to offer the best education and support to its children.
I have a BSc in Economics, an MSc in International Management and have professional qualifications in Project and Programme Management. I currently work in the public sector in Programmes and Policy, responsible for managing investment programmes, strategy and policy development and business planning. I also have extensive experience of working with young children. I was youth development co-ordinator and a supplementary school teacher for a local charity in West London, where I managed the youth services and taught English and Maths to children aged 6-16.
Outside of work, I enjoy travelling and reading and have a particular interest in design and creative writing.
Lesley Tucker - Clerk to Governors
I have been clerking for the governing body at Selborne since July 2013. My main responsibilities are to provide effective administrative support, organise and prepare agendas and act as minute taker to the Governing Body for full governing body meetings and committee meetings, where necessary; maintain membership information in accordance with legal requirements for the governing body and advise the Governing Body on governance, legislation and procedural matters where necessary.
Statutory Documents and Registers